At this point, there's a good chance you're almost there: you've purchased your new home, sold your current home, and have a new school picked out for the kids. Now there's just one critical step left: the actual move.
You've taken care of all those major steps you need to cover in a long distance move, but often the most mistakes are made on the simplest things. We've been moving people for 29 years, so we've seen many of these mistakes.
Whether you're moving from Portland to Eugene, Seattle, or Boise, here are some of the most common mistakes, so you can avoid them for your next long-distance move:
1. Forgetting to Bring an Overnight Bag
A lot can happen over the course of your long-distance move – movers aren't perfect. In rare cases, unexpected delays come up in the move. Or, more likely, everything will be delivered right on time, and you might not want to unpack all those boxes just to find a pair of clean underwear.
Bring yourself a weekend bag, as well as things for your family, to hold you over for a night or two: flashlights, pajamas, toys for the kids, toiletries, etc. Better to be prepared with a tooth brush and deodorant, then to be without for several days.
2. Forgetting Mover's Insurance
Before your move, be sure to check your mover's insurance. Depending on who you use, it may cover partial damage, total, or none at all. You don't want to find this out when it's too late.
Or, your homeowner's insurance may cover certain aspects of damage. Some policies don't cover items in transit, so that's an important one to check. Either way, many moving companies offer different packages for insurance, just do your diligence and find out what's available.
Read: Tips for Fitting in Portland When You First Move Here
3. Forgetting Things the Movers Don't Move
Certain things will be transported by your moving company, others are left to the homeowner to take care of. For things like wine collections, firearms, or items like a BBQ, double check with your movers who will be moving what. After all, those items may not be very comfortable to drive with across for long distances.
4. Not Properly Moving Plants
For one, not all plants can move throughout the country. Some conflict with existing species, or may bring in certain pests and insects. You'll want to check with the USDA if you're bringing many collections, or a large plant.
If the plants are cleared by the USDA, you should think about moving them yourself – living plants don't do so well in a dark moving truck.
5. Not Planning a Giveaway or Yard Sale
Here in Portland, we too often see piles of clothes, magazines, bedroom furniture, etc., on the side of the road. These "free piles" are very nice to stumble across, but not to stare at if you're one of the neighbors. Plan a yard sale or a re-gifting weekend well before you start packing.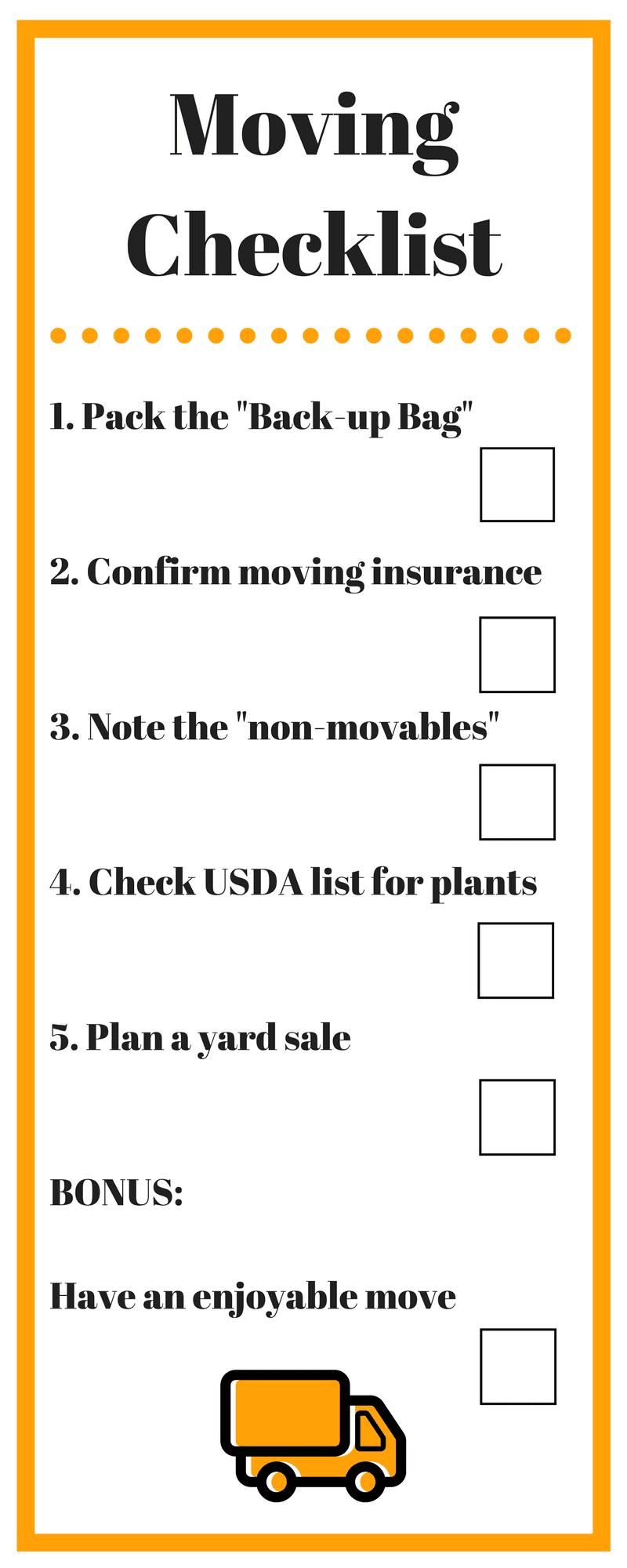 6. Not Telling the Right People You're Moving
Who needs to know that you're about to embark on a long-distance move? Do all your friends on social media need to know that you're relocating from Portland to Boise? What about casual or professional acquaintances, people such as hair stylists or baristas? Do they need to know you're leaving?
Aside from your family, only those with whom you have a business relationship need to know you're moving. People like a landlord and companies such as utilities and of course your long distance moving company.
However, you'll almost certainly want to tell more people about the change you're about to make. In some ways, moving from Oregon to Washington or Idaho is no different than moving from Tigard to the Hawthorne District. Either way, you need to get organized before the moving van rolls up to your home.
But, moving to a far-flung area does present particular challenges. First, you'll need to find a reliable long-distance moving company in Portland. Experience and dependability are vital in a long distance mover because your belongings may be on the road or in storage for quite awhile.
Smooth Move has you covered. We're both a local and long distance moving company in Portland. We keep you informed as your items make their way to your new home. So, count on us to do the packing and moving, while you take care of all the other details of your move.
Who should you tell about your long distance move? Start here:
TELL YOUR FAMILY FIRST
Everyone in your immediate family should be in on the initial decision to move. Even small children can be included in the discussion. A move, particularly one that takes them far from home, is confusing for kids.
One way to ease a child's anxiety is to listen to concerns and address them early on. Most people move for a job or to be near family. These are reasons even young kids can understand.
After everyone in your household is up-to-date on the move, it's time to tell other close family members. Anyone who is directly affected, such as those with whom you spend time, needs to know of your move.
BOOK WITH YOUR MOVING COMPANY EARLY
Contact your Portland long-distance moving company as soon as you know the time of your move. Careful scheduling is one key to a less stressful move. Arranging the move well in advance gives you a good chance to get the moving date you need. Waiting until the last minute risks complicating the move and multiplying your worries.
TALK TO FRIENDS AND NEIGHBORS
Tell close friends soon after you tell your family. In some cases, friends are the same as family. They'll certainly feel the impact of your move, so let them know right away.
Tell more casual friends about your move when it seems natural. Friends can help you by recommending a good long distance moving company or other professional services you might need. For example, before your move, you may need to make some home repairs. Ask for suggestions for a good handy person.
Let neighbors know about your move. Even if you're not close, it's courteous to let them know you'll be moving soon. If you're selling a home or having a garage sale, these are situations that can affect them. Let them know about a week before events that could disrupt parking or privacy.
CALL YOUR LANDLORD OR REAL ESTATE AGENT
Most rental property owners want at least 30 days notice of a move. All will appreciate more time. If you're selling a home, get in touch with a real estate agent early.
A real estate agent can advise you about home repairs and paperwork you may need to complete before putting your home on the market. They can help you find other professionals such as painters or home remodelers, too.
With a long distance move, your home may remain on the market even after you've relocated to another town or state. In that case, you'll depend on your real estate agent for all sorts of things. Spend time finding the right person for the job.
GIVE YOUR EMPLOYER ENOUGH NOTICE
Tell your workplace about your move at least two weeks before you're leaving. Your employer may appreciate more notice, especially if you need to be around to train a replacement. Your position and relationship with your company dictate the decision about when to tell people at work you're leaving.
GOVERNMENT OFFICES
Government agencies need to know about your move. Don't rely on a postal change of address to notify state or federal departments of a move.
Make a list of all the different official offices with which you deal such as the IRS and Secretary of State offices. Go online or call each to learn the requirements for notification.
It may seem like a hassle to call each place, but it will be even more complicated if you run afoul of the rules. Plus, taking care of everything in advance ensures you can avoid hangups when it's time to vote or prepare taxes.
CONTACT YOUR CHILDREN'S SCHOOL
Let schools know when your kids will be leaving. You'll need to take care of paperwork and ensure your children's records are sent to their new schools.
CHECK WITH THE DMV IN YOUR NEW LOCATION
The DMV requires notification soon after you move. In Oregon, notify the DMV of an address change within 30 days after a move. Washington state DMV requires notice of a new address within 10 days of your move.
Most address changes can be taken care of online. But, if you're moving from Oregon to Washington or another state, you'll most likely have to go to the DMV in person to get a new driver's license or ID card. You'll also need new license plates for your vehicle. Waiting risks getting a ticket and a fine.
CALL SERVICE COMPANIES
Notify your utility companies, internet and cable companies ahead of your move. Make arrangements to cancel service in your old home and start services in your new home. Call when you know your moving date. You'll avoid late fees and give yourself peace of mind when you take care of your services promptly.
FILL OUT A CHANGE OF ADDRESS WITH THE POST OFFICE
Fill out a change of address form with the U.S. Postal Service. Standard forwarding may be adequate, but you can also pay for premium services.
YOUR DOCTORS, GYM, HAIR SALON AND OTHER SERVICES
A fitness club or other business that charges by the month needs to know about your move. Give them about 30 days notice. If you're a regular at a salon, coffee house or another type of shop, you've probably built a friendly relationship with the owner and staff. It is good to say goodbye.
Let your physicians, dentists, and other health professionals know about your move. You can either get copies of medical records before you move, or ask them to send copies once you find a new doctor.
There's no need to announce your move on social media, and there are compelling reasons to be discreet and protect your privacy. Once your long distance move is complete you can mention you're in a new town. Be careful about revealing private information online.
Smooth Move People is a full-service moving company that can help you relocate anywhere in Oregon, Washington and beyond with our long distance moving services. Send us a note or call us at (503) 232-6099.
Check out this moving checklist for not just long-distance moves, but all moves in general.