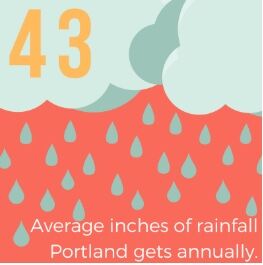 You want to move to Portland, but have heard stories about the long months of darkness and rain in Oregon. While those stories aren't exactly fictitious, we wanted to give you some facts regarding Portland weather and rainfall. Smooth Move People is here to shed some light on the issue, so you have a clearer picture–pun intended–of how much it rains here in Portland, Oregon.
How Much Does it Rain in Oregon?
Spoiler alert: It doesn't rain in Oregon as much as you probably think it does. Annually, Portland gets about 43 inches of rain. You might be thinking, "Wow, that seems like a lot!" And while it is a decent amount of rain Tallahassee, Florida, Port Arthur, Texas, and New Orleans, Louisiana, all get more rainfall than Portland does, with an average of 61 inches of annual rain for both Tallahassee and Port Arthur, and an average of 62 inches for New Orleans.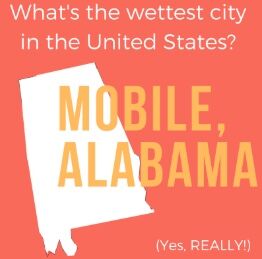 But the wettest city in the United States may surprise you. Mobile, Alabama comes in at number one with an average of 67 inches of rain a year. So yes, it rains a lot in Portland, but not the downpours you might be picturing. The 43ish inches of rain happen in Portland over an average of 154 days, whereas the 62 inches of rain in Mobile happens over about 59 days. When it comes to rain in Oregon, think drizzle, not downpour.
The Rain Doesn't Hold Portlanders Back
Still not convinced the rain isn't all the bad? Portland has an average of 144 sunny days a year, so there's plenty of time to get your bike rides and hikes in when it's sunny. The rainiest month is typically November. A little bit of rain when it's snowing elsewhere? We'll take it! All around, Portland's weather is mild and comfortable, if a little bit misty. The good news is that if you don't want to venture outside in a sprinkle, there are plenty of indoor activities throughout the city and larger region to keep you entertained during the rainy months. In fact, the rain in Oregon doesn't stop us from having fun. Don't believe us? There's even an entire website dedicated to rainy day indoor activities.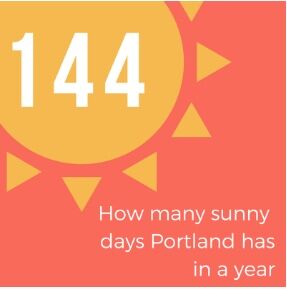 Of course, there are always plenty of coffee shops to duck into and enjoy while you wait for a break in the weather, and there's nothing cozier than a hot cup of coffee or hot chocolate on a gray day. If beer is your beverage of choice, we've got you covered there too.
Your Portland Movers
Rain or shine, Portland is an amazing place to live, and if you're moving here from near or far, Smooth Move People is the Portland moving company to do it. Schedule your move here, and let us be the first to welcome you to Portland.
After you've scheduled your move, read our blog post on how to fit in to your new home.