Become a Local in No Time
Movin' to Portland ain't easy. We're a town of intellects, derelicts, beer snobs, activists, foodies and fledgling start-ups. We're very friendly and down-to-earth people, but there are a few faux-pas that, if you don't adhere to, you will be passive-aggressively ripped to shreds.
So our longtime Portland residents, along with a few local bloggers and comedians, have teamed up to graciously compile a list to help you in this transition. May your assimilation begin.
1. Do NOT say the words "VooDoo Donut".
You better get your doughnuts from a place that only a few people, if any, have heard of.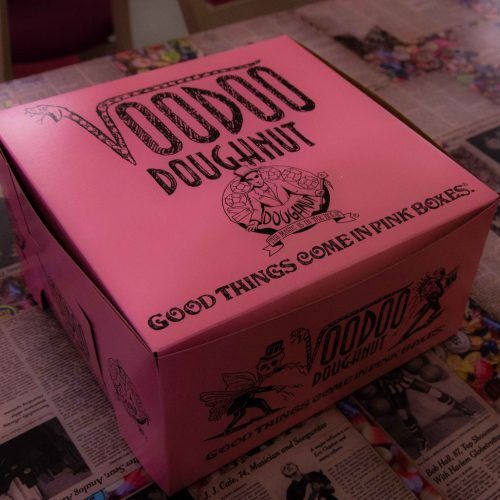 2. When people ask what you do for work, give a very roundabout answer.
For one, it's never just one thing. You aren't just "a writer". You're also a creator, an enabler, a connector, a being on this planet. Oh and you also have three online businesses. And you do graphic design on the side.
3. By all means, don't ever, EVER mention "Portlandia".
As of this writing, you've seen it, but you really don't get it. On that note, from here on out you're more into shows like "Twin Peaks" and Netflix documentaries (mostly ones that deal with food, saving animals and social commentaries). Fred Armisen is a genius though.
4. Pick a cause and get extremely angry about it.
The world is full of injustices and we need you to sound off on them. If you're running dry, here are some to get you started:
Corporations (all of them)
Housing costs
Airport carpets
And of course, plastic bags
5. Men, grow a slightly fuzzy beard.
If you don't have glasses, get some. Women: find a moisture-appropriate hairstyle that looks great in a drizzle and works for you. Or get really into hats.
6. Ditch your polos.
You will only wear clothing from the following places: Patagonia, Nike, Columbia, or any thrift store.
he more people that have worn it before, the better you'll fit in. Think 1920's with skinny jeans (and don't ever say you've shopped from H&M, but we all actually shop there).
7. Be ready to Instagram everything.
Everything gets documented. Remember, you're moving to Portland not because it's practical—there's no logical reason to move here—so the best thing you can do is double down and create the best #PDX #PNW #VSCO Instagram account ever.
Trust us, everyone from your midwest town will get super jealous from all your amazing latte art.
8. We have no Starbucks in Portland.
We never have, we never will. Okay, neither of those are true, but we pretend like they are. In that, you need to find your own coffee shop. Go there every single day and make sure you read something obscure.
9. Take up one of these hobbies:
Biking (this is not an option), knitting, growing food, pinball, anything spiritual or metaphysical (crystals are a great start) or any other fad that's 20+ years old. – Smooth Move People.
10. Read obsessively.
Contrary to other cities, and probably your childhood, reading is freakishly cool in Portland.
"People in Portland love to read. In fact, they love to read so much that you can't simply be reading one book, but you need to listen to one audio book while reading another book. (True Story! We overheard some guys at Powell's saying this)" -Jacob Fu, localadventurer.com
11. After a night of hard drinking, be ready to wake up at 7am the next day to hike the Gorge with your friends.
Yes, it hurts, but you can't show up to work Monday morning without having a recently-hiked trail to talk about.
12. Recycling is important
As important as bragging about how effective you are at recycling.
13. Support the Timbers or Thorns with reckless abandon.
Everyone wanted to know when Portland was getting a second professional sports team, and since the NFL never wanted us, we got the Timbers.
Apparently we had some dormant fútbol fanaticism inside of us that has been unleashed with a fury, so even though you have never followed soccer you will go to at least 3-6 games a year, buy the green Timbers scarf and memorize these chants. (Google Portland Trail Blazers and repeat process).
14. Things you hate:
Seattle, Donald Trump, cars, "labels", umbrellas, real estate developers, Gluten, chain restaurants. You can build from there.
15. You have to know how to talk beer.
Before you order, you have to ask at least 4 questions to the bartender. Here are some of the most common ones:
Where was it brewed?
You got any sours?
What IPAs do you have on tap?
Do you have Rainier in a bottle?
16. Memorize every local business.
When one inevitably shuts down because it's like a bookstore for jugglers or something, mourn loudly. @arthickman
17. Drive badly.
You're so cautious you're actually a danger.
Some general ways to accomplish this are driving very slow in the right lane, stopping at yellow lights, stopping every time you see a pedestrian…actually, just don't get in your car. We already have a traffic problem. Plus we hate cars, remember?
18. You support local music, no matter what.
"Even if you live here for 10+ years and had never been to a single local show, you are still all about supporting local artists in any way you can."
19. No umbrellas.
We don't give a hoot what's happening outside.
20. It's not the Moda Center, it's the Rose Garden.
In 2007, the home of the Portland Trail Blazers succumbed to the powers of big healthcare and was renamed as the Moda Center. Portlanders have not been so willing to adapt.
No one said it better than a random Radio Cab
"In our database, it will always be listed as 'The Rose Garden'."