People are on the move each and every day in America. That means that at every moment of the day (and night!), someone somewhere is searching for heavy lifting help near me or a similar phrase. In fact, you may have searched for that very thing before reaching this page!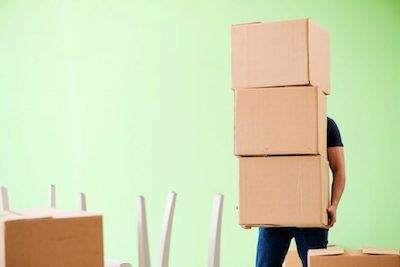 Welcome! Your search is over. You've found Smooth Move People, and we're ready to do all the heavy lifting for you.
As Portland's most trusted local moving service and long-distance moving company, we know how much goes into the moving process. Whether it's to move furniture — or a single piece of furniture — or moving a home and a family from one location to another. After all, we've been at this heavy lifting moving things for more than three decades.
So again, welcome! We're so glad that searching for heavy lifting near me brought you to our door. We're happy to help you move to your new front door — whether it's next door or in the next time zone!
Heavy Lifting Help From Smooth Move People
The Portland moving experts at Smooth Move People know how to get heavy things from Point A to Point B. Actually, it's more like Point A to Point Z since there are lots of intermediate steps in between your current home and your new one.
Think about it: There's the initial heavy item prep (dismantling, if necessary), securing the item(s) on a hand truck, attaching the moving straps, moving the item into the truck — and then out of the truck, down the ramp, into the new place, etc., etc., etc.
For truly heavy items, this kind of work should always be left to experienced and expert movers. A lot of things can go wrong — up to and including injury. Why put yourself to that sort of worry and stress when you have heavy lifting help near me — all done at the cheapest rates allowed by Oregon law? (It's true; take a look here.)
We've got a handle on heavy lifting and moving because we've seen it all and moved it all before. We are really efficient at what we do, from loading and unloading items to wrapping them up so that no damage occurs during transit. We know how to make the best use of space and to make your moving day not a stressful one, but one in which you can tend to other necessities that come along with moving from one place to another.
Best of all, we'll organize everything for you. We get our work done quickly and efficiently in part because we are extraordinarily systematic in our approach. This process comes from long years of moving heavy items and helping our customers make the best use of their space on the truck and in their new abode.
So for heavy lifting help, loading and unloading, packing and unpacking, or just general local or long-distance moving assistance, commercial or residential, search no further. We provide full-service moves, all the moving labor you'll need (you won't need to lift a finger), and the best customer service in the industry.
You've found Smooth Move People, a Portland moving company.
And you're already home.