A full-service moving company needs brains as well as brawn.
It's one thing to move hundreds of heavy and often unwieldy items. It's another thing to coordinate such moves year after year to the continuing satisfaction of three decades of clients.
And it's something else, too, when a moving company in Portland can relocate items that are heavy, unwieldy, and delicate — such as some of the furniture and other items found in a dental office or a medical office.
Need a furniture moving company to relocate your dental practice or medical office? Well, you've found one — the only one that matters. We can move your dental or medical office furniture, files, and more utilizing our knowledge of the moving process earned through hard work and persistence.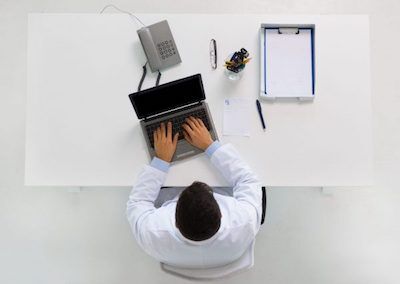 We're Smooth Move People, and we were describing ourselves up there in those first few paragraphs. We have the resources, the tools, the know-how, and, yes, the brawn to be your practice relocation expert. If you're a dental office or medical office furniture moving company in Portland, Vancouver, and the surrounding metro areas, we're here when you need us.
Moving Dental and Medical Offices
Moving dental or medical office furniture, computers, filing cabinets, and more involves skills and preparation that differs in several ways from moving furniture from somebody's home.
A dental or medical practice that intends to relocate needs a professional moving company to move furniture, files, and more. That moving company must operate with an extra level of care and attention to detail in order to pack and ship other items crucial to the daily operations of a dental office, including patient files, paperwork, computer systems, and more.
As the move day approaches, whether you're in a rush or you're planning the move months in advance, Smooth Move People's professional movers are here for you.
There are lots of companies out there touting their medical or dental moving services, office moving, and more. But only one of them can help make your move-planning an easy and stress-free process.
Check out our website, paying special attention to our rates for both local and long-distance moves. You'll see that we provide full-service moving and relocation services at rates that literally can't be any lower.
How can we say that? Because we charge the lowest moving rates permitted by the Oregon Department of Transportation (ODOT). Our ODOT certificate number is 001982, by the way.
One of the (many) reasons we're able to provide such high-quality moving service in Oregon and Washington for such reasonable rates: We own our own trucks and equipment. That means our overhead is super low, which means we can pass the savings and the service on to you.
So make sure to do your research. Check out ODOT's helpful tips on hiring a mover, whether it's a local moving company or a national van line. Either way, when you're done, make sure to get in touch with us. We promise that you'll be glad you trusted us to be your dental and/or medical moving company.
Office Furniture
One last note that's definitely worthy of mention: We can also disassemble and reassemble your dental or medical office furniture. Just let us know, and we'll get it done, including setting it up in your new space.
We've been in business since 1989. We're family-owned and operated, and we truly believe that we're only as good as our last job.
So when you want the best and most affordable dental and medical office moving company in Portland — or anywhere, for that matter — then the call to make is the one that leads directly to Smooth Move People.
We also provide residential and commercial moving services.