Getting ready to move and wondering where to donate clothes in Portland OR?
If you are planning to move, chances are you are going through your closets and storage areas to purge any unwanted items. Donating clothes and shoes that you no longer want or need will help give you more space in your new home, and it will also help other people in need.
If you are looking for an alternative to the regular Goodwill drop-off, here are some other organizations in the Portland area that are doing great things for people in need.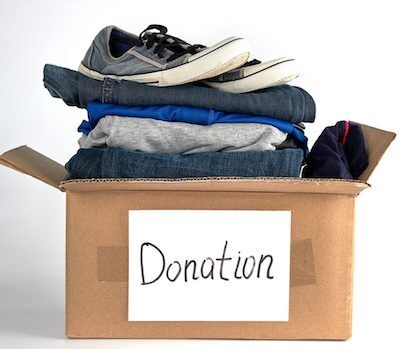 These organizations often ask for "gently used items," including household items and clothing, but be sure to check with them to see if they have continued the programs listed here.
Salvation Army Female Emergency Center
11 N.W. 5th Ave.
Portland, OR
Drop off donations on the first Thursday of each month from 11 a.m. to 2 p.m. or the third Thursday of each month from 4 p.m. to 7 p.m. The organization accepts new and gently used clothing items in addition to bedding, washcloths, and towels.
Blanchet House
310 N.W. Glisan Street
Portland, OR
This organization accepts clean, usable items that are hole-free and not stained. Their most needed items are adult-sized raincoats, women's and men's jeans, sweatpants, jackets, socks, baseball hats, outdoor boots, and sneakers. Children's clothing, suits, and linens or bedding are not accepted.
Transition Projects
665 N.W. Hoyt Street
Portland, OR
Drop off donations 24 hours a day, seven days a week. This organization accepts coats, winter clothing, shoes, underwear, socks, blankets, towels, and more.
William Temple House
2230 N.W. Glisan Street
Portland, OR 97210
Adult-sized men's and women's clothing that is clean and in good condition is accepted here. Shoes, accessories, and jewelry are also accepted. Drop off downtown, or for a fee, the organization can pick up your donations.
Union Gospel Mission
3 N.W. 3rd Avenue
Portland, OR
Accepting donations Monday through Friday 9 a.m. to 5 p.m. They are especially looking for socks, coats, men's pants, and sweatpants, blankets, and sleeping bags.
Vietnam Veterans of America
Based in Silver Spring, Maryland, with donation collection available nationwide. Click here for details and hours.
They'll accept men's, women's, and children's clothing of all types, including shoes, purses, belts, and ties.