Do you know the word, Shinrin-yoku? It's a Japanese term that means "forest bathing". You practice it by immersing yourself—physically and sensually—in nature.
Part of the science is, trees give off an organic compound called "Phytoncides". They're known less formally as Natural Killer (NK) cells, which boost your immune system and are a deterrent from serious conditions (like cancer).
There's tons of research behind it, but you get the idea: spending time in nature is essentially a way to cleanse yourself.
Here's the good part: there's plenty of shinrin-yoku in Portland. It's a huge reason why this place is so livable. In most areas, you can go from an office meeting to being surrounded by trees in less than 15 minutes. Part of that is impeccable urban design, the other is the city's commitment to building and maintaining parks ($175mil was budgeted for parks in 2016).
But that's enough of our yapping. There are 144 developed parks in the city; we're longtime Portland residents so we've spent our fair share in most of them. Below are our favorites, along with one thing that makes them special.
Forest Park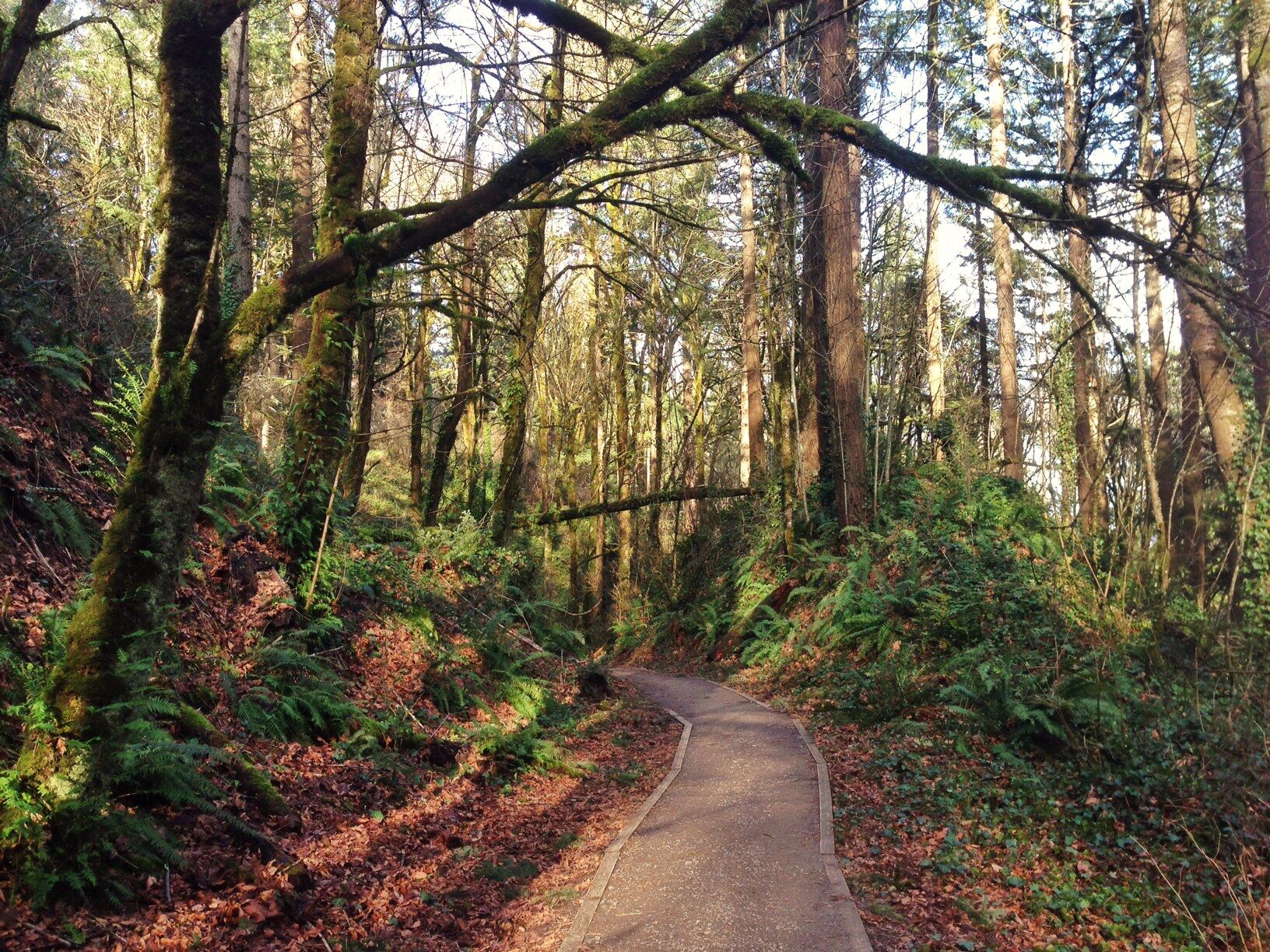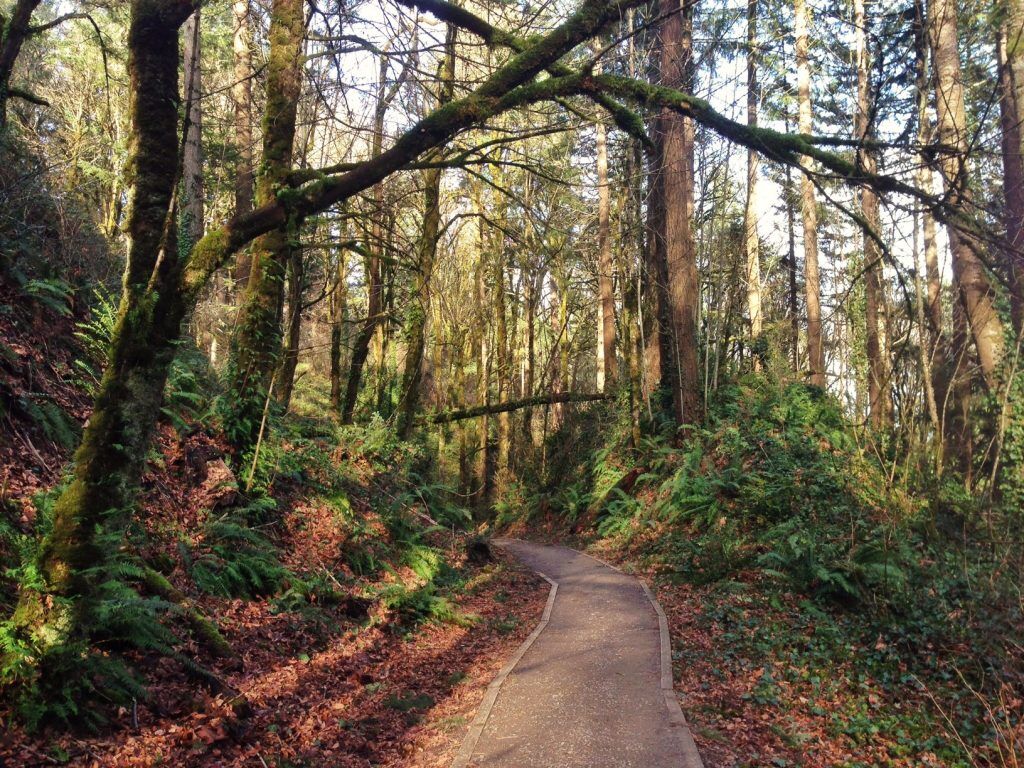 Not many parks can you walk for five minutes and completely forget you're in the city. One that you can is Forest Park, the largest urban forest in the United States.
Forest Park is a wooded wonderland that wraps around the entire western edge of the city, with a network of trails that totals 150 miles. You can spend years in Portland without exploring the whole area.
Best for: Rain. Forest Park is one place that's just as pretty in the rain as it is in the sun.
Tip: Hike Wildwood Trail from Lower Macleay Park, follow the signs to Pittock Mansion. This is one of the best views of the city, and you'd be crazy not to bring your lunch there and picnic.
Japanese Gardens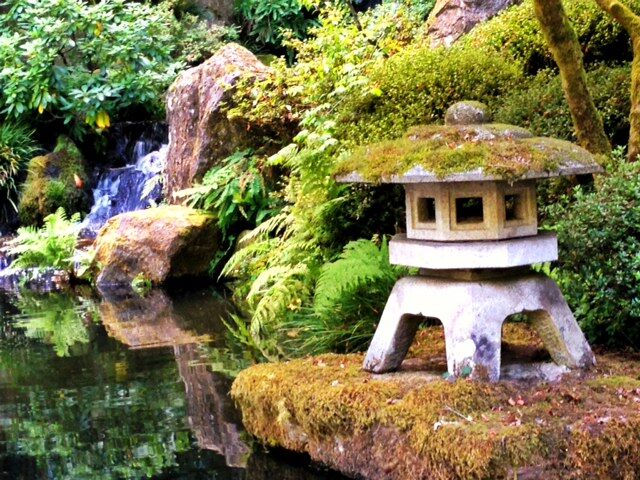 As you walk to the tea house, you'll notice the path is lined with stones of different sizes. This was done purposely, so as to hold the walker's attention and keep them "in the moment".
This is what we talked about with the shinrin-yoku – a space that's designed to heal and center the person who enters. Such is the idea behind Portland's Japanese Gardens, which, according to some, are the most authentic outside of Japan.
Best for: Tranquility.
Tip: Go during the week, or just outside of peak months (ideally February, March, October and November). A garden packed with tourists is no place for tranquility.
Cathedral Park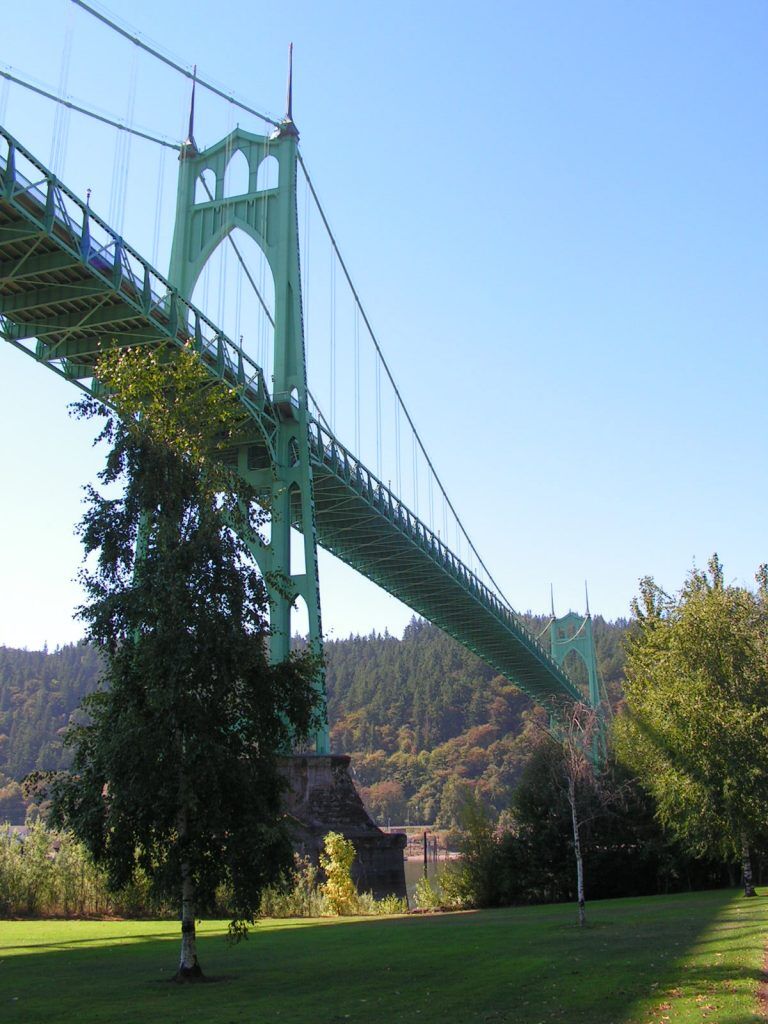 At one point, the area under the St. Johns Bridge was a "dump". At least that was the thought of Howard Galbraith, then "honorary mayor" of the area, who raised $7.5mil to clean it up. Eight years later, this area was completed and brought back to life, eventually becoming one of Portland's most iconic parks.
(story provided for by Portland Parks & Recreation)
Best for: Getting married (hence the name) – in summer, you'll see a wedding here practically every weekend
Tip: Take a stroll nearby on St. John's Lombard Street, one of the quaintest streets in the city
Mt. Tabor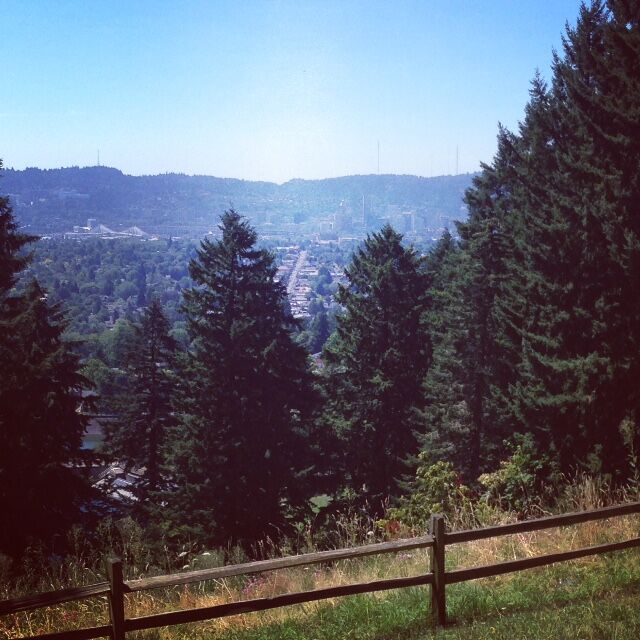 You'll hear this a thousand more times (and sorry if you have already): Mt. Tabor is an urban volcano. Granted it's extinct, but it's one of the most popular spots in the city for a sunny day. Here hosts the city's annual Adult Soap Box Derby, as well as many other events.
Also, here's a note: vehicles are banned on Wednesdays (you have to park outside and walk up), which makes for some wicked long boarding and downhill biking.
Best for: Sports (longboarding, basketball, tennis, jogging, you name it)
Tip: Grab a book from nearby Powell's on Hawthorne and fill your coffee thermos at Fresh Pot. Head to Tabor, lay a blanket and enjoy your book while overlooking the city.
Laurelhurst Park
Once upon a time was a curmudgeonly white swan named General Pershing. According to legend, he forbade people from nearing the edge of the lake by honking at them as they approached. He isn't around anymore, but rumor goes you can still hear faint geese whispers if you get too close to the water.
Okay, we made up that last part. But Laurelhurst is still a prime spot for the ducks, with a large pond and vibrant foliage. It's hands down one of the most colorful parks in the city.
Best for: Dogs. Either bring yours or watch the dozens of adorable ones that are brought there
Tip: Get a coffee and homemade donut from nearby coffee shop Rockin' Frog, then enjoy them in the park
Kelley Pointe Park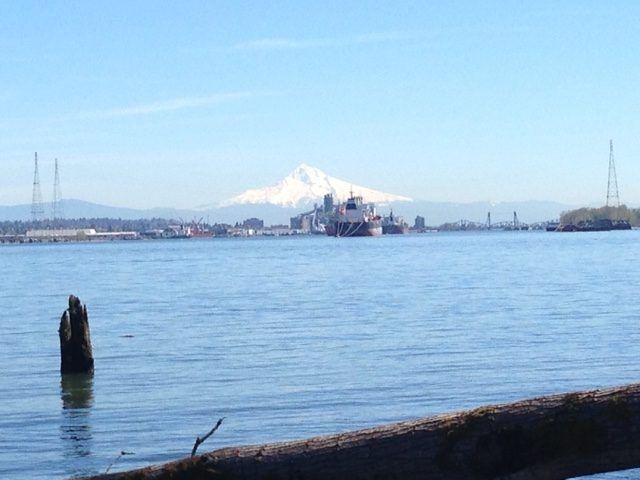 This park's namesake, Hall Jackson Kelley, is an important figure in Oregon's history, and he's also regarded as being "obsessive" and "deranged". Kelley's story is fascinating and tragic, if you ever get the time.
Kelley Pointe Park is the confluence of the Willamette and Columbia Rivers (which is cool). It's also a peninsula with trails and plenty of beach, including grassy areas to throw the frisbee and dedicated barbecuing spots. Basically, it's a summer day's dream.
Best for: Swimming on a bleeding hot day
Tip: Head there during the week, early in the day before it fills up. Let the passing boats and lapping waves lull you into an early-morning or late-afternoon nap
Mill Ends Park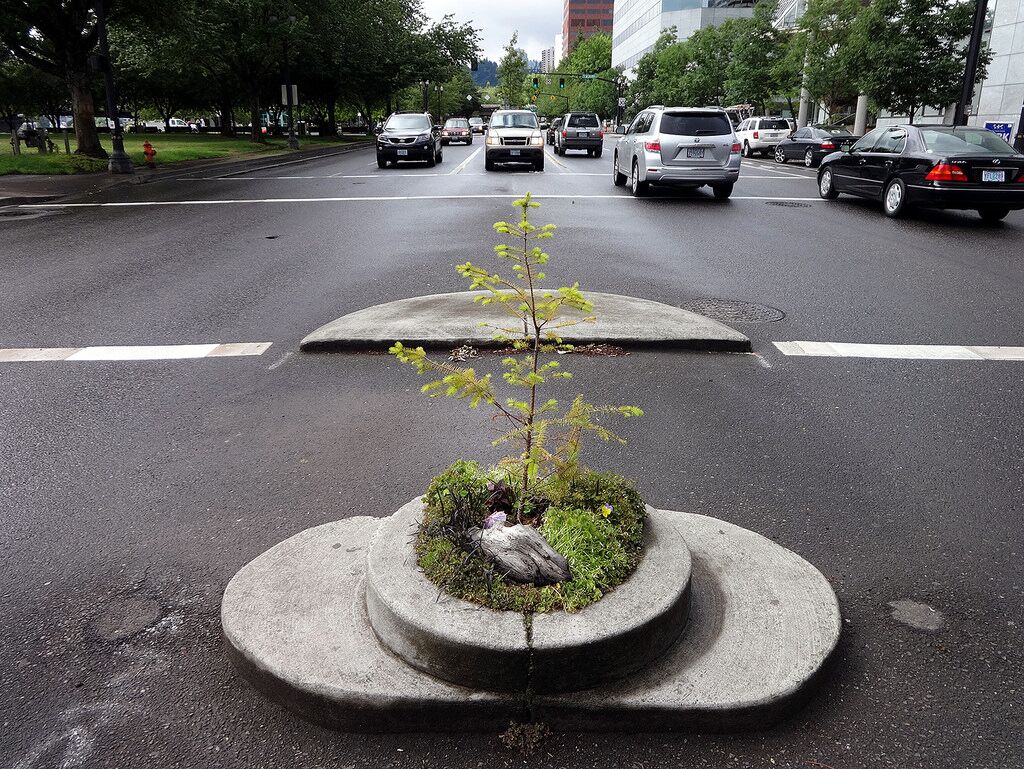 Originally, a light pole was to be planted here. The pole never arrived, and weeds grew in its place. A local journalist, Dick Fagan, planted flowers and named the area after his newspaper column, "Mill Ends". And thus, the smallest park in the world was born.
Best for: Standing as cars whizz by you
Tip: Don't blink
Crystal Springs Rhododendron Park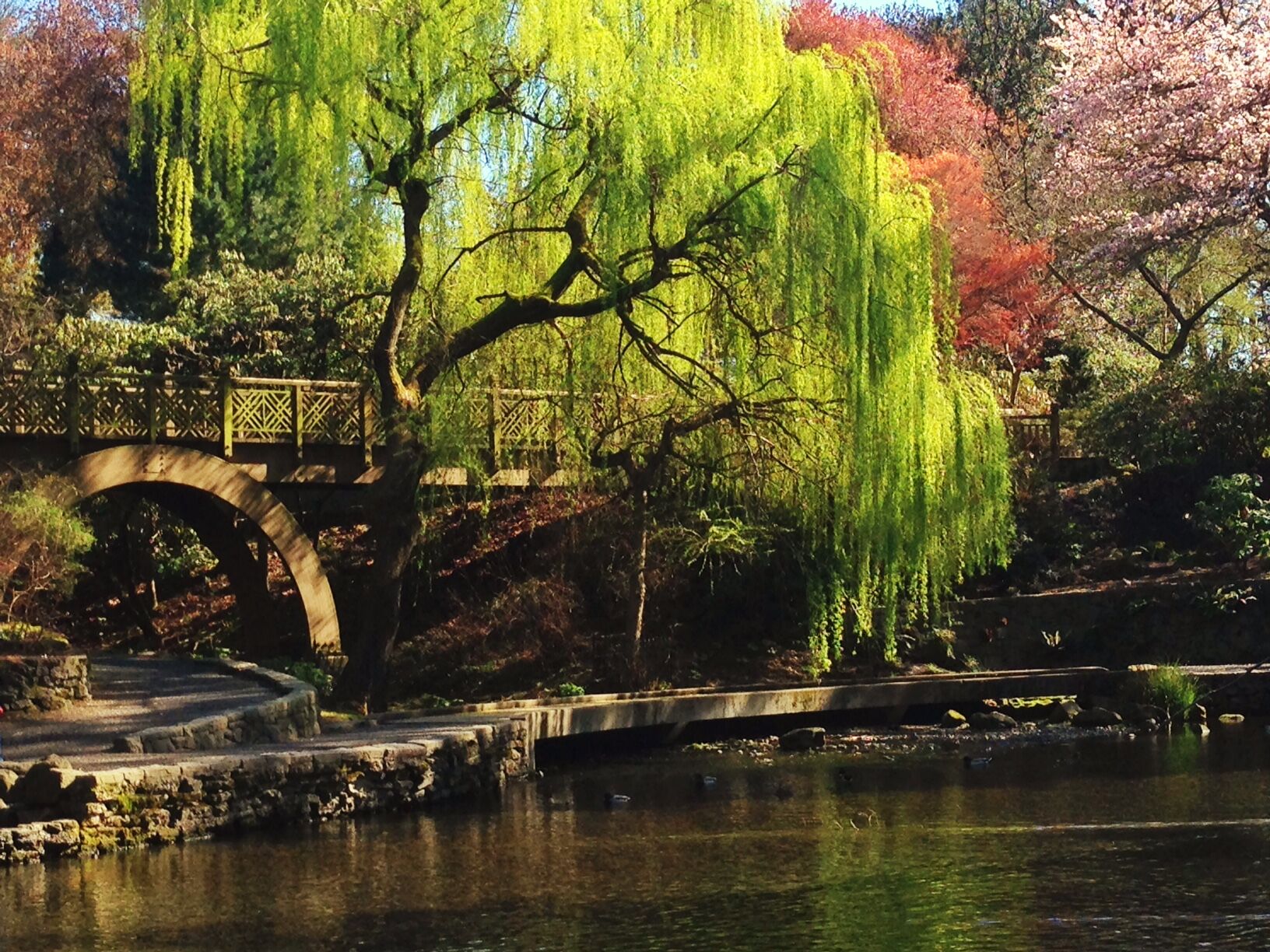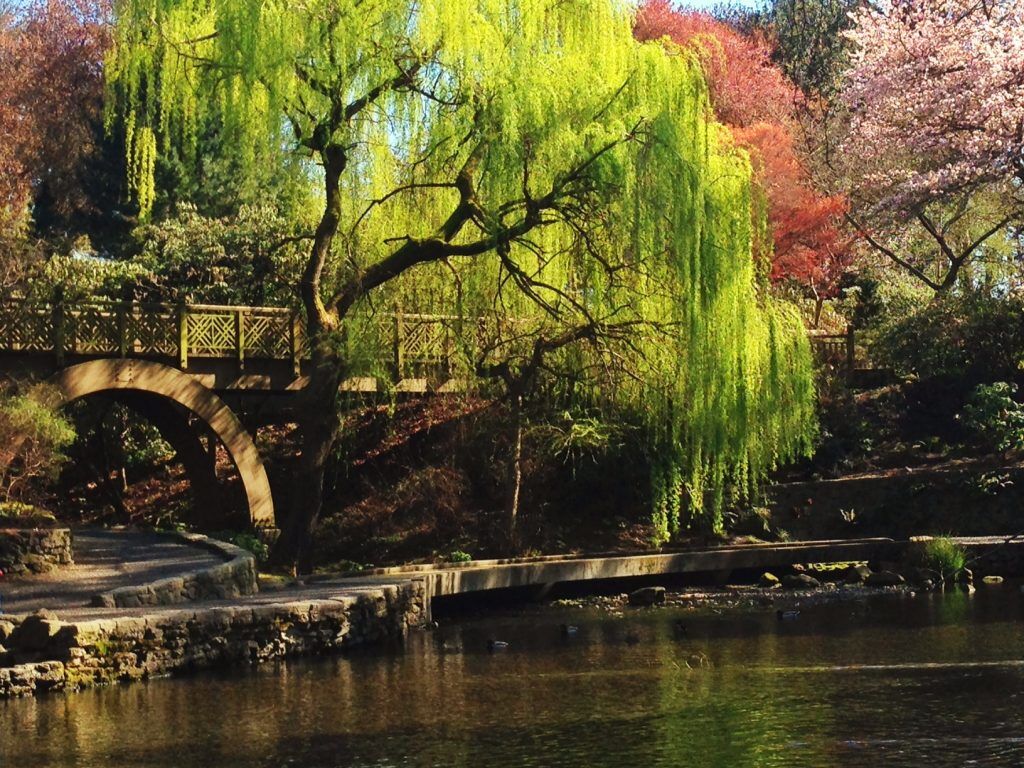 With a total of 2,500 flowers and plants in the garden, Crystal Springs is a prime spot for a stroll.
Also, and this is debatable, Crystal Springs might just be the most beautiful park in the city. The rhododendrons themselves don't bloom until summer, but you can still enjoy magnolias, azaleas and cherry blossoms in the spring.
Best for: First dates and flower lovers
Tip: BEWARE OF GEESE. They are an advanced species (and far more agile than they look)
Dog Parks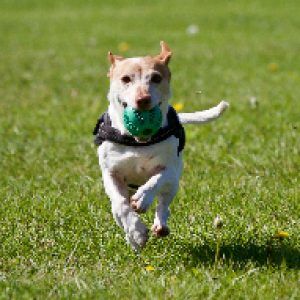 We didn't forget about your four-legged friend, either. As much as we enjoy the great outdoors, Fido, Rex, and Shep love it that much more. The sites! The smells! The slobbering! You can take your leashed dog to most parks, but here are a few places where you can let your pooch run free!
You still need to pick up after your furry family member, though. Please read all the rules of whichever park you visit, although there are a few obvious points. If your dog is super aggressive, these parks probably aren't going to be a good fit. Children and dogs are a perfect fit – if they know each other. Make sure your kids understand not all dogs are like their beloved pal.
Chimney Park
A fully fenced park that allows dogs to inspect, run, and play on eight acres. So even if your dog tends to wander, you'll always be able to track them down. This popular area often sees many dogs and their families in the area, so there will be plenty of mingling for man's best friend.
Interesting side note: this was the location of Portland's incinerator and gets its name from the chimney that was such a prominent feature. Of course, the incinerator is long since gone now, giving Portland pups a place to play.
Thousand Acres/Sandy River Delta
The largest park in the Portland metro area, the Sandy River Delta place has it all! Miles and miles of trails, rivers to play fetch in, and almost all of it is off-leash. Although it might be a bit of a drive – the park is located in Troutdale – you'll be able to spend the entire day there during the summer.
This isn't a specific dog park, however. So expect to hikers, horses, and even hunters spread out over a thousand acres. Please pay attention to where you park and dogs must be leashed in the parking lot and within 100 feet of the Confluence Trail.
Ike Memorial park (Formerly known as Ross)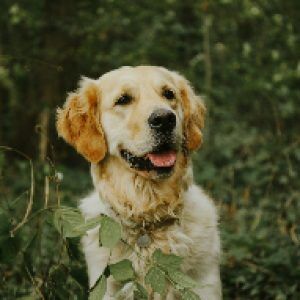 Yes, this off-leash area is located in Vancouver, but as the flagship park for DOGPAW, it is one of the finer dog parks in the metro area. With almost 12 acres of fully fenced land, dogs have plenty of room to roam at the Ike Memorial Park. There are two entrances with parking, although the west parking lot is bigger.
There are dog bag stations (both to take a bag and leave a bag if you can spare it) at both entrances, places to throw away "filled" bags, and water to cool down the dogs. The terrain is flat in areas, hilly in others, and there is a small collection of trees for optimal sniffing. And, of course, a smaller separated area for the small, shy, or nervous dogs.
In all, Portland is home to more than 30 dog parks, some of which are fully fenced. The parks that aren't fenced are best for dogs that can be reliably recalled when needed because busy roads could be nearby. The City of Portland has a handy site that outlines all of the off-leash parks in its vicinity.
---
We hope this guide serves you well. If we're missing any tips, or you have parks you'd like to suggest, give us a shout.
Now, get out there and do some forest bathing!