Knowing what to pack first when moving is different from knowing what to move first when moving.
The former is often done by the people who are moving (or in collaboration with the moving company).
The latter is best left for the professional movers to decide. After all, they're the ones loading and unloading the truck, and they have a lot of reasons for why they choose to move some items before others.
But as to knowing what to pack first when moving, we can help you decide based on our experience not only as a professional moving company but as people who have moved countless times before ourselves!
KNOWING WHAT TO PACK FIRST — AND HOW
We don't always get our choice of when we move or how much time we have. But no matter how much time you have before moving day, there are a few things to think about even before you start packing.
Planning a move — if you have the time and can afford not to wait until the last minute — will make the job go much smoother.
For example, if you don't have cardboard boxes or bins, bubble wrap, tape, or other packing supplies, you're not going to get much done. Estimate what you're moving and how many boxes you'll need. Determine how many clothes need wardrobe boxes (if any). There are also boxes specially made for dinnerware, glasses, and other kitchen items.
These boxes will go a long way to simplifying the packing process. For other delicate items, such as office supplies (printer, monitor) and heirlooms, consider packing peanuts to keep them safe during transit. Or maybe you don't have anything that warrants that kind of caution. That's fine, too – but make a list of packing supplies you will need.
MOVING CHECKLIST
Now that you have everything you need to start packing, where should you start? Think about everything you don't need for the next month. Holiday decorations, out-of-season clothes, your collection of pint glasses from around the world. These are items to pack first because they are non-essential to everyday life.
Find somewhere in the house or garage where these boxes can be stored over the next few weeks. Hopefully, you'll be adding boxes to the pile every few days so when the moving truck arrives, you won't have to go room to room looking for boxes. When you're preparing for a 50-mile move, you don't want to leave a box full of stuffed animals behind.
After non-essential stuff, move on to artwork, books, and entertainment stuff like video games, DVDs, and the like. The kids may wail, but those items can take up a lot of space and be difficult to pack. This is also a good time to start taking care of kitchen supplies that won't be needed (slow cookers, pie pans, etc.).
At this point, you're a couple of weeks away from moving and you've made a good dent in your belongings. With two weeks to go, it's time to start condensing what you need for daily living. Extra bed sheets and towels, toys, tools, and everything else you don't absolutely need. Leave just enough stuff out to last until moving day.
Also, gather up important documents, contact numbers for services at the new place, schools, vets, doctors, passports, checkbooks, etc. Keep them in a folder on the kitchen counter so they are always accessible. You don't want them suddenly scooped up and packed away.
Getting Close to Moving Day!
With one week remaining, you should be living a pretty spartan lifestyle. Time to start packing the rest of the kitchen, extra clothes, and the bathrooms. Yes, leave out a medicine bag for daily care, but make sure the drawers and cabinets are cleaned out. Keep personal items separate from cleaning supplies.
During the final two days, it's time for furniture to make its way down to the staging area. You've been eating off of paper plates and now you'll be sleeping on the floor or air mattress. Think of it as a sleepover or campout – or try not to think about it all. It will be fun for the kids at least.
On moving day, everything should be in place, save for a few duffel bags of clothes, toys, and snacks for the trip. Essential items should be easy to get to and the moving truck should have easy access to the garage or front door. It's time to move!
WHAT NOT TO PACK
Want to make the whole packing job easier? Consider reducing your load. Any seasonal clothes that won't fit the kids in a year, clothes that haven't been worn in a year, shoes that are about ready to fall apart, and any other items that will remain in the closet when you get to the new place.
This includes everything in your home, inside and out. Moving to a condo where landscaping is covered by a homeowners association? Get rid of shovels, rakes, lawnmowers, and so on. Thinking about getting a new kitchen table anyway? Then get rid of your old one prior to the move.
Sell, donate, or trash everything that can be sold, donated, or trashed. Why bother with moving things you no longer want or need? Goodwill, social media, animal shelters, and other organizations will be glad to take some of that stuff off of your hands.
LEAVE IT TO THE PROFESSIONALS
Is the idea of moving an entire house just too overwhelming? Then leave all the hard work and heavy items to an experienced and professional moving company. We can help you stay organized with packing tips, packing materials, packing paper, and more. We can even advise you as to the best way to dispose of unwanted items.
For more than three decades, Smooth Move People have been helping single people, couples, and families simplify the moving process. We'll pack your belongings, fragile items, packing boxes, seasonal items — everything! — put them all on the truck and unload everything at your new residence.
The best part is no one will move you for less than we can. This isn't a marketing ploy, either. Oregon literally won't allow us to charge less.
Feel free to shop around, but when you're ready to make your move, make sure to schedule with Smooth Move People.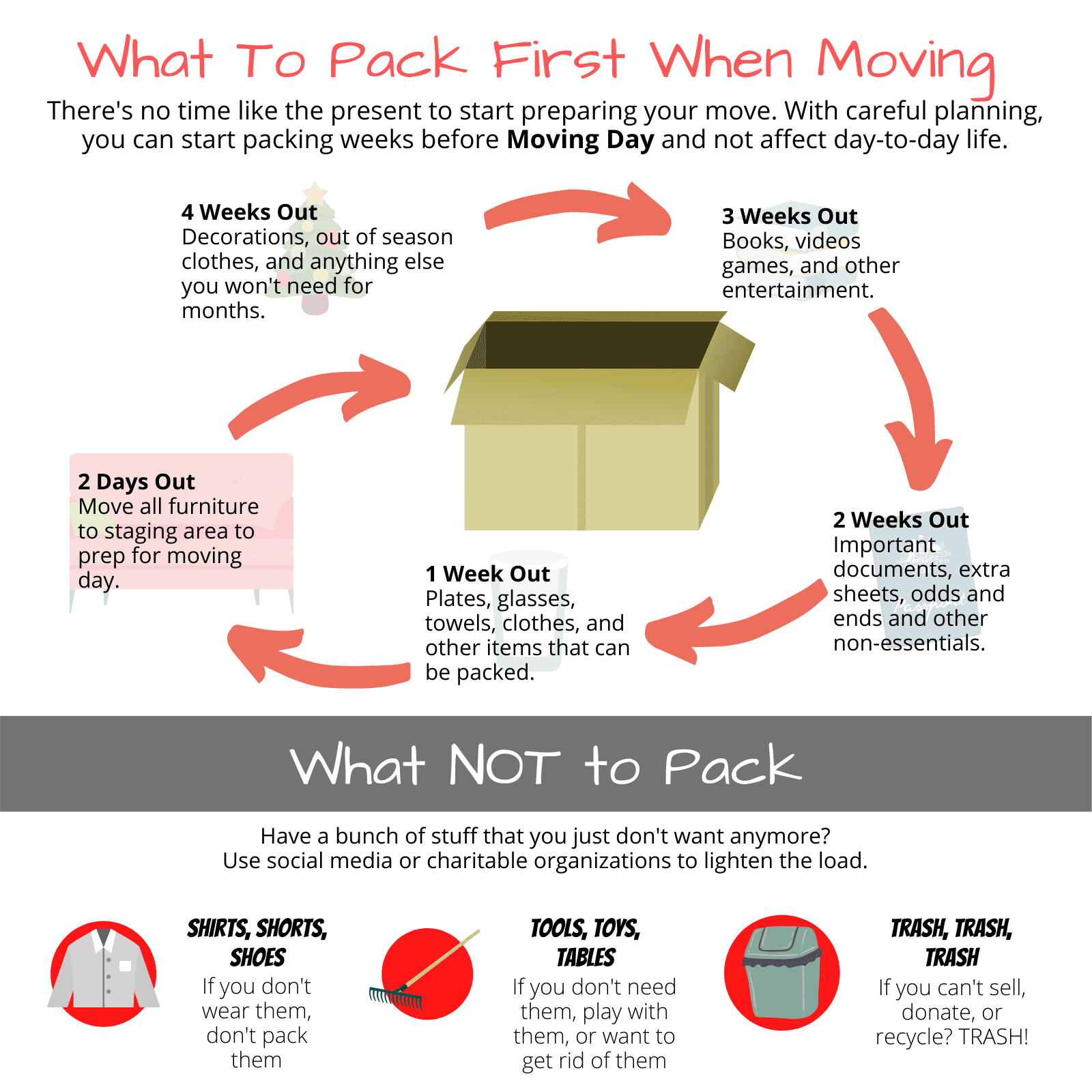 This blog post was updated on 8/1/23.