Moving can get expensive. Whether it's purchasing moving boxes to pack away many of the collectibles that you've gathered over the years or looking at hiring help to get furniture moved, costs add up quickly. If you can find ways to cut costs, every little bit counts. One of the ways to cut costs is (or used to be) to find an answer to the following question: Are moving expenses deductible?
Unfortunately, thanks to the Tax Cuts and Jobs Act of 2017, signed into law by President Donald Trump, many people who may have formerly been eligible to deduct their moving expenses no longer will be able to.
Specifically, employment-related moving expenses (unless for military service) are no longer deductible. That means when the time comes to turn in your federal tax return and state tax return — you know the routine: gross income, earned income, taxable income, etc. — you can't deduct the cost of your move.
IRS
You can use this IRS page to go through an exercise that will help you determine if you can deduct your moving expenses.
You'll be asked which tax year you're concerned with and whether or not the move was due to a military-related relocation.
As far as that second question goes, if the answer was YES, you'll be asked to provide additional information related to your move in order to determine eligibility. If the answer was NO, you'll be told that you are not eligible to deduct your moving expenses.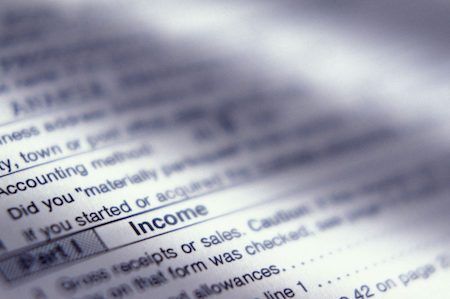 The IRS says "the moving expense deduction has been temporarily suspended," which, we suppose, means it may come back at some point. We recommend speaking with a tax adviser for information that best helps you make the most of your particular situation.
So what used to be deductible for most people — hiring moving companies to relocate them, especially for jobs — is kaput. Bye-bye Form 3903 for most people for this specific purpose.
Before/After the Tax Changes
As previously constructed, and prior to Trump signing the law referenced above, tax codes allowed for Americans to deduct employment-related moving expenses.
Tax filers seeking these deductions had to meet a few requirements, including proving that the move was job-related and that the new job was at least 50 miles farther away than the distance between one's previous residence and their previous job location; and, lastly, that the taxpayer works full-time for at least 39 weeks during the first 12 months after relocating.
Now, as we prepare to enter 2022, you may be wondering if there is a way to write off any of those costs when it comes to paying your federal income taxes. As discussed above, in previous years, the government allowed tax deductions for moving expenses.
Now, moving expenses are no longer tax-deductible when moving for work, unless you or your family are military members. Active duty United States military personnel that are required to move as part of their orders or a permanent change of station can qualify for tax deductions.
If you are a military member, make sure to get as much information as you can for tax purposes. This included itemized deductions, adjustments to income, and any employer reimbursements.
Let's sum this whole thing up:
First, moving expenses (employment-related or not) are not deductible.
Unreimbursed moving expenses, which used to be fully deductible, are no longer deductible.
Finally, employer-reimbursed moving expenses, which used to be excluded from income, are now counted as income and taxed.
What Else Can You Do To Help Minimize Moving Expenses?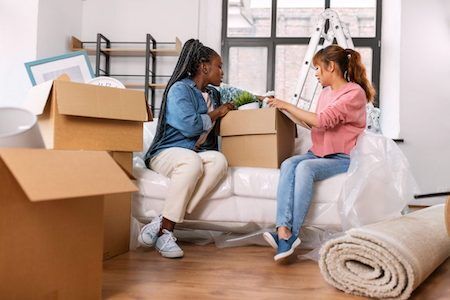 If you are not part of the military, there are still several ways that you can help offset the cost of moving. If you are being transferred for work, talk to your employer about whether they plan to help with some of the relocation costs.
There are oftentimes relocation packages for employees that will help encourage people to take new positions in a different office. This means reimbursements are available for relocations, so it is a good idea to talk to your human resources staff about those possible options.
Another option to help reduce the cost of moving is to downsize. The more things you must move, the more expensive it will be!
Spend some time decluttering. Make piles for selling or donating and keep the must-haves. This process will save you money and will save you time packing.
Smooth Move People: Lowest Moving Rates
Here's another way to save some money on your move: hire the Portland moving experts at Smooth Move People!
We offer the most affordable rates in the region. In fact, our moving rates are as low as they are permitted to be by state law.
Yes, you read that right the first time! We charge the lowest moving rate amount that we're legally allowed to by the Oregon Department of Transportation (ODOT).
On top of these low rates, we have the advantage of owning all our equipment. What might this mean for you and your local or long-distance, residential or commercial move? It means we have super low overhead (since we own everything we use) and can pass those savings onto you.
Since 1989, we've been helping our neighbors in the Portland and Vancouver metropolitan areas get from one place to another — and doing it for a lower cost than other similarly situated Portland and Vancouver movers.
Consider that our low rates for two movers and a truck can run as little as $115 per hour. Additional movers are just $47.05 more per hour.
Naturally, every move is different. We can better pinpoint a moving rate for you when you call us or fill out a simple online form that provides some details about your move.
We're happy to provide you with a free estimate, whether your move is across town or across the country.
Protections
Last but not least, please do keep in mind that our moving rates include insurance. Your items will be valued at 60 cents per pound per article.
We also offer optional additional full-coverage insurance. This optional investment in your move means full-coverage protection for any goods damaged caused by our movers that will need to be repaired. If the goods are damaged beyond repair, they will be replaced with a like item at full value. The cost for this additional optional full coverage is just 85 cents per $100 coverage ($10,000 minimum, or $85).
Values: Yours and Ours
Finally, let's talk a bit about values: yours and ours. We value your business, and that's why we are proud to offer the best values in the business.
But beyond those values, we also value that we are a neighborhood company. We are family-owned and -operated, just as we have been since back in 1989.
We love being able to help folks like you get a fresh start.
No matter the reason for your move.
No matter how near or far you're moving.
We're here to assist you.
Our experienced team of movers at Smooth Move People knows that moving can get stressful. We know that your finances play a big factor in your upcoming move and are proud to offer the lowest rates in Oregon for moving services.
We work with customers to get them and their possessions moved efficiently on time and within their budget.
Contact us today to plan the details of your move with us!
ODOT# 001982 | USDOT# 2097226
This post was updated on January 18, 2022.