Relocating to a new city can be seem like a mental marathon. Where's the nearest coffee shop? How far do you have to drive to get groceries? Is public transportation an option? Do you need different clothes for the climate? Whew, — the list seems endless.
One question we can answer for you immediately with a resounding 'yes' is that moving to Portland, Oregon is a great idea. And we're glad you've decided to live here. Read on for a few suggestions about diving into the Portland culture, from the food scene and fun activities, to finding your way around the diverse Portland neighborhoods.
Learning the Local Portland Lingo
Every city has a few unique local terms and we want you to have the inside scoop: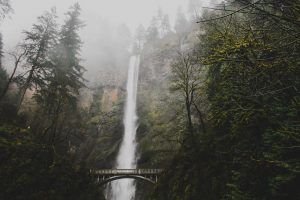 PDX – this is the airport code for the Portland International Airport, but some people use it when talking about the city. "I know all about PDX."
No'Po – this refers to North Portland, home of the University of Portland, Forest Park, Cathedral Park, and great restaurants along Mississippi Avenue.
Mountain's Out – a short-cut to describe the weather. If the mountain's out, it's clear enough to see the nearby peaks of Mt. Hood, Mt. Jefferson, Mt. Adams or St. Helens. Our sky is often drizzly and overcast, so 'mountain's out' is a welcome phrase.
Freddie's – when it's time to stock your fridge and pantry, you'll likely head to Fred Meyers, also known as Freddie's, which is essentially Oregon's upscale version of Walmart.
The MAX – short for Metropolitan Area Express, this light rail system connects downtown Portland with several Portland neighborhoods and PDX.
The TriMet – short for the Tri-County Metropolitan Transportation District of Oregon, this agency runs the MAX and the public bus system.
And two other important points: Couch Street (through Old Chinatown) is pronounced "cooch" and Naito Parkway is "night-o." You'll thank us later.
Getting Connected to Food, Fans and Fun
Now that you've learned a little bit of the language, it's time to find out why moving to Portland, Oregon was the one of the best decisions you've made this year. If you're app-savvy, download these to get connected to transportation, tours and tasty food:
Finding Portland Neighborhoods that Fit You
Portland has 12 distinctive regions where you can live, visit, shop and eat. We've highlighted a few of them here that you should check out when moving to Portland:
Downtown Portland. Our walkable city features Waterfront Park, the Portland Art Museum, and a summer Farmer's Market.
Pearl District. Northwest of downtown, you'll find another urban renaissance filled with iconic residential buildings, local businesses, and renowned restaurants.
Northwest Portland / Nob Hill. This Portland neighborhood is trendy and sophisticated, home to pet lovers, park walkers, and pub crawlers.
Lloyd District. Our Convention Center and the Moda Center (known by locals as the Rose Garden) host visitors, sports fans, and entertainment-seekers.
Central Eastside. The east bank of the Williamette River has undergone a renaissance, transforming from a largely industrial area to a vibrant mix of people, businesses and retail shops.
Belmont District. Southeast Portland is also home to this diverse urban neighborhood offering great brunches (Portlanders LOVE brunch) and great live bands.
Sellwood-Morland. On a bluff in Southeast Portland with a view of the Williamette River, this historic Portland neighborhood offers shops for antique-hunters and trails and parks for nature-lovers.
Moving to Portland, Oregon? We've got you covered
We hope we've brightened your spirits about moving to Portland, Oregon. We know a move brings a lot of change with it. Contact our team at Smooth Move People. Since we're locally owned, we know our way around. And we'll handle the heavy-lifting, so you can immerse yourself in one of the best cities in the U.S. Really! We were ranked #6 by U.S. News.