Whether you are moving for the second time or the 13th time, moving is a notoriously stressful process that can throw even the most experienced planners for a loop. Fortunately, there are some moving tips and packing tips that can make the packing and unpacking process a little bit easier, which can help save time and make the process go a bit smoother. Here are some packing hacks for moving.
#1: Don't empty dresser drawers.
The first of our packing hacks for moving: Instead of emptying all the contents from your dresser drawers, consider leaving them as they are. We will assist you in securing your drawers by shrink-wrapping them.
This not only saves time and effort but also provides extra protection for your belongings. After all, empty spaces in boxes can cause small items to shift around, so be careful how you pack!
Important note: Please fill four of your clothing drawers with clothing only — and leave the rest of the drawers empty. This helps ensure the piece does not come apart and remains manageable for the movers.
#2: Mark things properly.
Marking things properly makes unpacking so much easier since you can start the process by putting the boxes in the appropriate rooms where they belong in your new home.
Labeling your boxes is crucial for easy unpacking and locating specific items later. Clearly mark each box with its contents and the room it belongs to.
In our experience, the best way to mark boxes is to mark them on the top and the sides. Label each box with information about what room it goes into (e.g., kitchen, master bath, bedrooms, garage, living room, dining room, etc.).
Color coding your boxes is great, especially for office moves. You can use color-coded labels to streamline the process. It works for homes, too. You might also think about using a color code to identify how you pack your boxes. For example, small items, toilet paper, towels (these are important in a new home!), fragile items, and more.
In short: Label, label, label — using whatever method works for you. The more accurately you label your boxes, the easier it is to find what you need when you have a mountain of boxes to unload in the new living space.
#3: Keep clothes on hangers.
Just like you should consider leaving items in their drawers, also think about leaving your clothes on their hangers.
Packing clothes individually can be a tedious task. Instead, keep your clothes on hangers and use wardrobe boxes, which are designed with a metal bar to hang clothing. This method allows you to transfer your clothes directly from the closet to the box, saving time and minimizing wrinkles.
Smooth Move People can loan you up to four wardrobe boxes if needed. However, keep in mind that it may be more efficient for customers to move their own clothes on hangers. This is for one simple reason: Wardrobe boxes take up a lot of floor space.
Packing clothing sometimes means throwing everything in the back seat of a car or in a bunch of large boxes — cardboard boxes, no doubt — and sealing it up with packing tape. But if you are emptying out your closets, keep them on the hangers. This saves time in finding hangers and hanging each item individually. This way, you can grab a handful of clothes on the hangers from the box and put them directly into your new closet.
#4: Use your towels and linens as packing material.
Use towels and linens as packing material: Instead of buying extra packing material, utilize your towels, linens, and blankets to wrap fragile items. These soft materials provide cushioning and protection during transportation. Place them around breakable objects, such as dishes, glassware, and electronics, to minimize the risk of damage.
Your towels, linens, and other soft items can be used as packing material to protect a wide variety of items: glasses, dishes, vases, or other materials that need to be transported. In the kitchen, wrap utensils and knives safely and use dish towels to secure them further. Do not use rubber bands!
#5: Take advantage of suitcases.
Maximize the space in your suitcases by packing them with items, such as clothes, shoes, and toiletries. Suitcases are sturdy and equipped with wheels, making them convenient for moving heavier or bulkier items.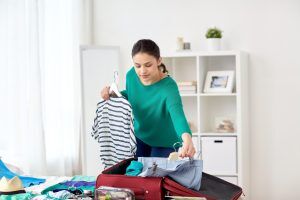 Utilizing suitcases not only saves space in boxes but also makes it easier to transport your belongings.
Suitcases can be used as a mode of transportation too. Consider putting books, shoes, or other heavy items that may not be as easily transported in a moving box.
#6: Designate essentials.
Separate essentials that you need immediately during and after moving. This is one of the most important of all packing hacks for moving.
It's essential to identify and separate items you'll need right away in your new home. This includes important documents, prescription medications, toiletries, a change of clothes, and any other essentials.
Pack these items in a separate box or bag and keep them easily accessible. This way, you won't have to search through multiple boxes to find what you need immediately.
Smooth Move People: The Ultimate Moving Hack
Our team at Smooth Move People can help complete your move with ease and efficiency. We are a full-service moving company in Portland. With our help, you can expect detailed planning and organization to make any move a quick and stress-free experience.
Moving can be a stressful and time-consuming process, but with a few smart packing strategies, you can make the task more efficient and organized. By following these packing tips, you can streamline the moving process, protect your belongings, and ensure a smoother transition to your new home.
Our team at Smooth Move People takes into account the specific needs of each move, so you can rest assured that all your belongings will be safe and secure during transit. We also provide packing supplies and materials for safely transporting items such as fragile dishes or expensive electronics.
We can also help you make the most of your own packing hacks — be they pieces of bubble wrap, garbage bags, packing paper, or other things.
Contact us today to learn more about our services and to get your move scheduled with us.
Remember to plan ahead, stay organized (consider using a moving checklist), disassemble furniture, if necessary, and enlist the help of friends or professional movers if you can.
Good luck with your move, and let us know if you need more packing hacks for moving.
This post was updated on 7/3/23.