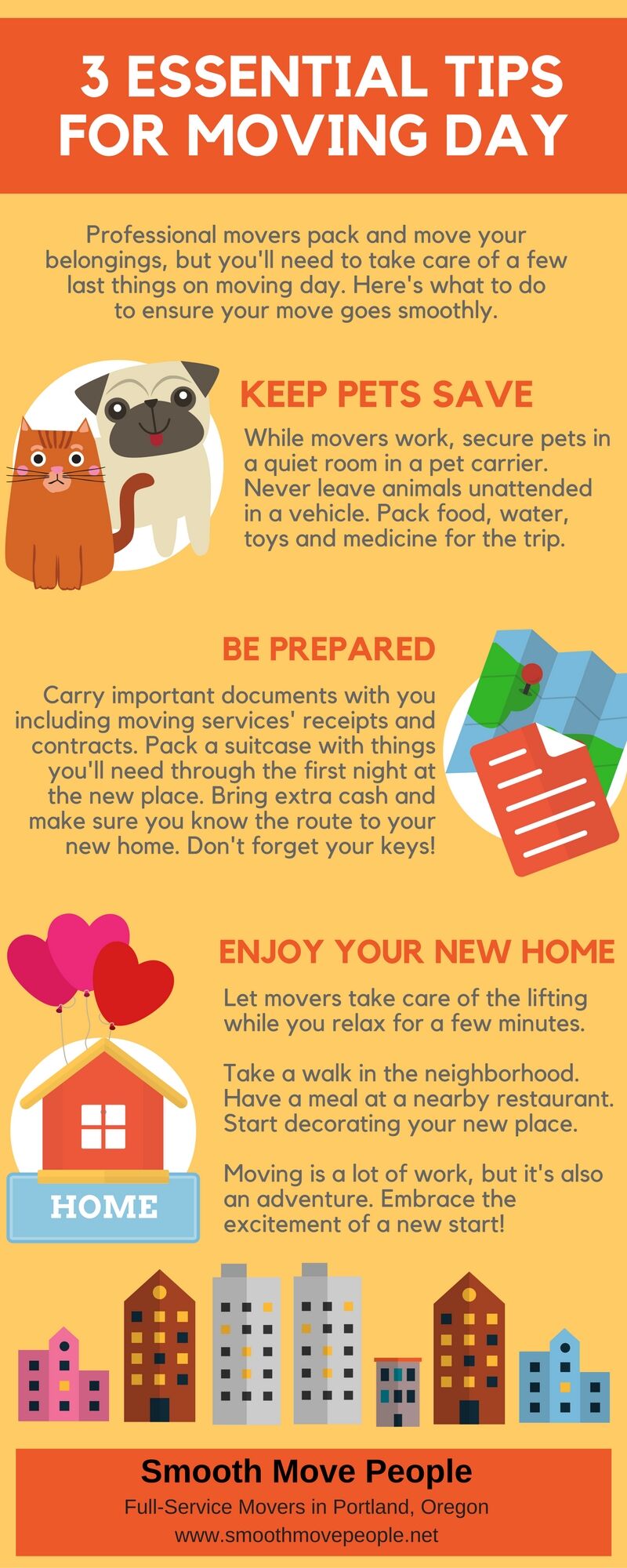 If you're wondering how to get organized for a move, you're not alone. This is a common concern, especially for those people who haven't moved much in their adult lives.
Fortunately, there is Smooth Move People to take the guesswork out of the process. We have decades of experience helping people just like you — and their families, too! — get from Point A to Point Z (and everywhere in between).
And yet, even with Portland's full-service moving experts on your side, you might still have that nagging feeling that you're overlooking something. This is normal; you're about to embark on a major maneuver (not to mention a major milestone): the relocation of the contents of an entire home as well as the people who live there.
It's an exciting time; it can also be a stressful time.
Do you want to take the stress out of a move? Then let's learn how to get organized for a move!
First, we'll make a plan to get organized. Planning helps you feel in control, and it can help minimize anxiety. With a plan in place, you can set a schedule to begin chipping away at the work.
Take things one step at a time. And make sure you plan far enough ahead that you can work on these individual projects without feeling like you're running out of time and beginning to feel overwhelmed.
Get Organized For A Move: The How-To
Start With a Budget
Plan your move by listing the expenses associated with relocating. Things to include are moving services, packing materials, deposits for rentals, storage fees, eating out, and travel expenses.
If you make a budget well ahead of time, you can start saving for the move. A budget helps you cut costs because you'll begin to prioritize your spending and eliminate waste.
Budgeting is also important because for the first few months after a move, there may be unexpected expenses as tasks and bills begin to pile up and, in many cases, overlap.
A quick note about Smooth Move People: Our moving rates shouldn't put a tremendous dent in your moving budget. That's because we have the lowest moving rates in the region!
This is not just empty boasting, either. We really do charge the lowest moving rate amounts that we're legally allowed to by the Oregon Department of Transportation (ODOT).
On top of those already low rates, we also are a self-contained Portland moving company. We own all of our equipment — our moving trucks, for example. That means we have much less overhead expenses than most other Portland moving companies.
Great prices, great service, and a track record of excellence with everything from pianos and art work to the most fragile items. Your moving plan is off to a super start!
Put Together A Big Binder of To-Do Lists
One good piece of advice that we've encouraged our customers to do (and which we've done on our own behalf when we've moved) is to keep a binder with all the important documents associated with your move.
This notebook will fill up quickly, and it will become very much like your best friend from the moment you start planning your move until the last box is unpacked.
What should you keep in the moving binder? Let's take a look!
Checklists: Brainstorm a big list of things to take care of in the months and weeks before moving, then organize the list and start checking items off as you complete them.
Inventories: A room-by-room home inventory helps you keep track of what you own. You may already have compiled this document for your homeowner's insurance.
Budget: The budget you created for moving expenses. (See above.)
Documents: Receipts and contracts, plus vital documents, such as birth certificates, passports, and car titles, if any.
Miscellaneous: Anything you might need while you're on the road between homes. A list of contacts, for example.
Next Steps: Hire a Portland Mover and a Special Services
Hiring professionals to do some of the work reduces stress and banks time. The biggest part of moving is packing. Save yourself a ton of work by booking early with a full-service moving company, one that starts packing, transports, and then unpacks your belongings.
Consider hiring a cleaning service to take care of your old home, your new home, or both. If you're hiring painters or remodelers, schedule their work to be complete before the moving van arrives.
Purge
Belongings seem to accumulate at a rapid clip. One never really knows just how much stuff they've got until it comes time to begin boxing items up and you review the contents of each box.
When it comes to fitting essential items into boxes for moving day, that process will go much more smoothly if you declutter beforehand. Decluttering will make the moving van lighter and your spirits higher.
Sort through every room in the house, gathering possessions you no longer want. Compile three discard piles: one for trash, one for donations, and the last one for things you want to sell. Consider color-coding labels to make them easier to identify at a glance.
Schedule Utilities and Other Services
Make sure you have power, water, gas, cable, and other services by contacting the relevant agencies as soon as you know your new address and moving date. Don't forget to turn off or transfer utilities from your old home.
Three Final Essential Tips For Moving Day
Professional movers pack and move your belongings, but you'll need to take care of a few last things on moving day. Here are three final essential things to do to help ensure your move goes smoothly:
Keep pets safe: While movers work, secure pets in a quiet room in a pet carrier. Never leave animals unattended in a vehicle. Pack food, water, toys, medicine, for the trip.
Be prepared: Carry important documents with you, including moving services receipts and contracts. Pack a suitcase with things you'll need through the first night at the new place. Bring extra cash and make sure you know the route to your new home. Don't forget your keys!
Enjoy your new home: Let movers take care of the heavy lifting while you relax for a few minutes.
Take a walk in the neighborhood.
Have a meal at a nearby restaurant. Start decorating your new place.
Moving is a lot of work, but it's also an adventure. Embrace the excitement of a new start.
Smooth Move People is a full-service mover in Portland, Oregon. We come highly recommended throughout the Portland metro area (including Vancouver WA). We perform residential moves, office moves, commercial moves, and more.
We are a local moving service, but we're also equipped for long-distance moving. Whether you partner with us as your local movers or for a move across the country, we'll provide you with the best customer service in the industry.
We look forward to serving you! Get in touch with the experienced movers at Smooth Move People today to schedule service or to begin a conversation about how best we can assist you.
Smooth Move People provides reliable moving services in Portland and beyond. Our service area is big, and we work with both residential and commercial customers.
We also offer our super low moving rates with helpful insurance coverage. For example, your items will be valued at 60 cents per pound, per article.
We also offer our customers additional insurance options that provide full coverage. This full coverage protection covers any goods that are damaged and determined to have been caused by our movers. We will repair these goods.
If the goods are damaged beyond repair, we will find replacement items at similar values. The cost for this optional, full coverage is 85 cents per $100 coverage ($10,000 minimum, or $85).
Let us know if you have any questions or concerns. We're here to serve you. Just as we've been every day since our first move way back in 1989.
Contact us today for an estimate of your own upcoming move.