Are you looking for a reliable apartment mover in the Portland metro area? You're in luck! We've been serving our community for three decades and counting, so you can rest assured that we will take the utmost care of your belongings. But don't just take our word for it, check out our many customer reviews.
Smooth Move People offers the best rates and customer service in the business for your apartment packing and moving needs. And we're not just saying that–we literally offer the lowest rates in the state. In fact, the state of Oregon won't let us go any lower! So if you're looking for a professional moving team at the best price, you've found us.
Why are we able to have such low rates? We keep our overhead low by owning our equipment and trucks. That means we can pass the savings on to you.
Moving Help Near Portland, Vancouver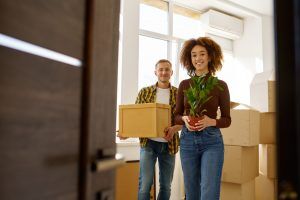 Packing is often regarded as one of the worst parts of moving. It can be frustrating, overwhelming, and draining. Moving is stressful enough, so let your local Portland movers help you with a full-service move! Trust us, you'll be amazed at how great it feels to have a hands-off moving day.
With our moving help, all you need to do is head to your new place. No more last-second frantic packing the night before when you employ the help of your local moving company! We have years of moving experience with apartment and home moves, so you'll know that the packing and moving process will go smoothly. After all, it's in our name!
Our goal is to provide you with the best apartment packing services at unbeatable prices. We even offer some packing supplies if needed, otherwise, we can use your own supplies. If you do choose to use our supplies, we offer:
Boxes (new, used, wardrobe, art, standard sizes, single items, larger items, and more)
Dish packs
Paper pads
Tape
Bubble wrap
And more!
Leave the apartment packing process to us, and even better, let us handle the loading and unloading process! Dealing with moving trucks and loading is a pain, let your Portland moving helpers take over.
APARTMENT MOVING HELP: LOADING AND UNLOADING
The final few days before an apartment move can be spent rushing around, getting stuff ready to move, and cleaning, cleaning, cleaning. When you work with Smooth Move People, we'll send over two men and a truck to take care of loading all your stuff and taking it to the new place.
This will give you more time to take care of the little things that need to be taken care of during any move. Turning in keys, transferring utilities, setting up the internet in the new place, and did we mention cleaning? Let us take care of the packing and loading so you can deal with all of the other things you need to do.
Moving into a new apartment on the third floor may give you great views, but it also gives you a lot of stairs to climb. Nothing is worse than taking a million trips up and down the busy stairs of your building, especially when it comes to the heavy lifting.
Avoid risking an injury and let our experts handle it. Their years of experience make them safe and effective movers, even with lots of stairs. This will give you the time to figure out where everything will go and how to set up your new apartment.
APARTMENT MOVERS NEAR ME: SMOOTH MOVE PEOPLE
We've been in business since 1989, helping people just like you complete their moves, free of hassle. We do both local and long-distance moves. In addition to our apartment moving services, we also provide:
Rental trucks
Storage containers
ABF trailers
Moving labor help
MoveX trailers
Help with maximizing your space
Assistance with securing loads for travel
Local and cross-country moves
Let Smooth Move People take the load off for you. Call 503-444-8936 now for your free, no-obligation quote. We look forward to working with you.